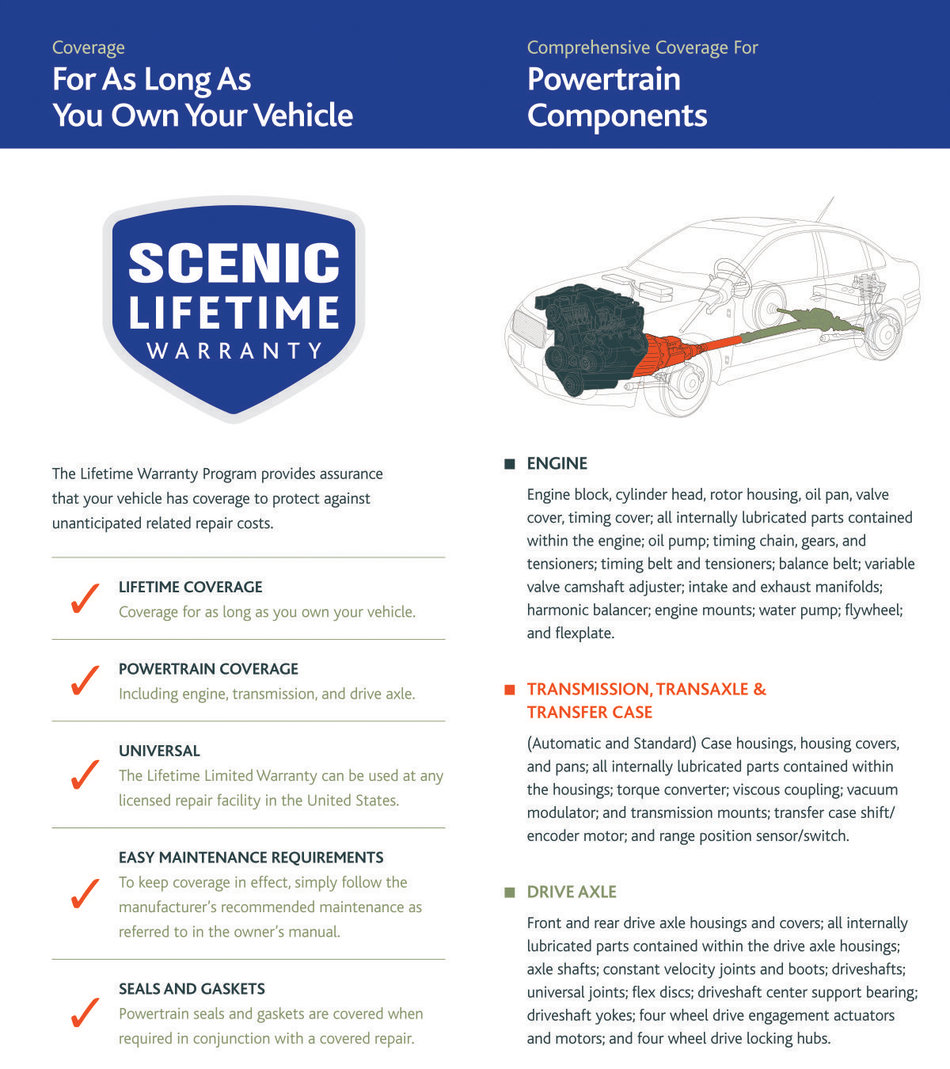 Get the Ultimate Peace of Mind with a Lifetime Warranty on Your New Subaru Vehicle at Scenic Subaru
One of the biggest concerns for many Elkin, NC drivers when they buy a new vehicle is the repair cost down the road.  No one wants to foot the bill for a huge auto repair.  Even with a brand with a great reputation for reliability, like Subaru, it is nice to have peace of mind knowing that if there is an unexpected mechanical failure, that the dealership will be able to stand behind the vehicle.  At Scenic Subaru, located at 2300 Rockford Street in Mount Airy, NC, you will have that experience thanks to our Lifetime Warranty program.
How Does the Lifetime Warranty Work?
When a Westfield, NC driver buys a new Subaru car, hatchback, or SUV from our dealership, they will automatically get the benefit of a Lifetime Warranty for as long as they own that vehicle.  This program provides the protection against unanticipated car repairs that many Dobson, NC customers covet on their new Subaru vehicle.  No one wants to be making car payments on their auto loan and then also have to come up with money for a repair bill too.  Now, with Scenic Subaru offering the benefit of this Lifetime Warranty program, you can have the peace of mind and confidence that our dealership will be right there to assist you in the case of a covered auto repair.  This coverage is good for many of the powertrain components, including the engine block, cylinder head, water pump, transfer case shift, and the front and rear axle.
An Abundance of Benefits
King, NC customers will have many perks when it comes to the Scenic Lifetime Warranty program.  Some of these perks include:
Lifetime Coverage
Powertrain Coverage
Universal Easy Maintenance Requirements
Seals and Gaskets
Basically, the benefits end up stating that you have lifetime coverage of many of the powertrain components, including seals and gaskets, as long as you follow the simple maintenance requirements that come recommended in the owner's manuals.  This is a simple way of ensuring that your Subaru car, hatchback, or SUV gets the coverage it needs in the worst-case scenario.  The Lifetime Warranty is not available on commercial or diesel vehicles.
Making Your Ownership Experience a Great One
The Scenic Lifetime Warranty Program is one way that Scenic Subaru, in Mount Airy, NC, aims to make your Subaru ownership experience a great one.  Come down to our dealership, buy your Subaru vehicle today, and leave with the peace of mind knowing that our dealership has your back.
**Warranty is not applicable on commercial accounts.
**Warranty is not applicable on diesels vehicles.